Track tickets and issues with Ticket Insights
The Ticket Insights Report gives you a general overview of tickets based on agent, channel, queue and ticket field. We'll show you your different options when it comes to viewing and filtering the data.



Understanding the Response Time Graph

Whether you're viewing the report for agent, queue, channel or ticket field, you'll see a colored graph for the average response time.

Green: Responded within an hour
Pale green: Responded within 1-4 hours
Yellow: Responded in 4-24 hours
Red: It took over 24 hours for a response to be sent
If you hover over the color graph, you'll be able to see a percentage for each response time frame.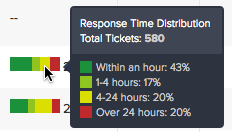 Ticket Insights Include


Whether you're viewing insights by agent, queue, channel or ticket field, it will include:


Tickets: This is the number of tickets created during the reporting period and assigned to that agent/queue/field etc...It does not include tickets created manually that have not been responded to by an admin.
%: The percentage of all tickets handled by the agent, queue, channel or ticket field.
Average Response Time: This includes all the replies within a ticket thread.
Responses: The number of user messages responded to in a ticket. It will only count agent responses to a user messages, so if a user sends two responses back to back (before the user writes back), only the first will be counted. Responses counts responses the agent made that day, regardless of which tickets and when the tickets were created.
Avg. Responses per ticket: The average responses required before the ticket is resolved. This metric includes BOTH admin and end user replies on the ticket.
First Contact Resolution (Count): The number of tickets closed with only one agent reply.
First Contact Resolution (Rate): The percentage of tickets closed with only one agent reply.
Escalation Count: The number of tickets another agent responded to after the original assignee responded.
Escalation Rate: The percentage of tickets another agent responded to after the original assignee responded.
By clicking on any of the insight titles, you can sort by highest or lowest. In the above screenshot, "tickets" were the selected sort option.

By Agent

You can view insights for each agent. You can also select only certain agents, and view insights on just them. If an agent has not handled any tickets during the reporting period, you won't be able to select them.

The "Ticket" count for an agent includes tickets that were created during that time frame and that are currently assigned to them.

Any responses an agent writes during that time frame to a user's message (even on tickets now assigned to other agents) will show in their responses count.

By Queues

You can set up multiple support queues to organize tickets. You can view the same ticket insights for queues as you can for agents. Please note: some legacy plans may not include this option

If a ticket is assigned to a queue and an agent grabs it, it will show as a ticket for that queue in the Queue Insights.

A ticket will be attributed to the last queue it was assigned to. So if it was assigned to the "Rescue" queue and then assigned to the "Sales" queue, it will show in the ticket count for the "Sales" queue.

By Channels

Channels are how users submit the ticket.s So you can see the average response time on tickets sent in via email, the escalation count for tickets submitted through your UserVoice portal etc...

Here's a quick walk through of each Channel:

Email: This is when a user creates a ticket by sending in an email.
API: Tickets created via the API.
Contact Widget: Tickets created via the UserVoice Widget.
Classic Widget: Ticket submitted via the Classic widget.
Satisfaction Widget: Tickets created via the Satisfaction Widget.
UserVoice Portal: Tickets submitted on your UserVoice site
Admin Console: Tickets you created manually for users.
Converted from an Idea: Tickets that have been converted from ideas.
Android SDK: Tickets submitted via the Android SDK embedded in your app.
iOS SDK: Tickets submitted via the iOS SDK embedded in your app.
By Ticket Field

You can also see insights for tickets by ticket fields. In order for the ticket field to show in the report, it must be one that has pre-defined values. So the admin or end user chooses from a list of pre-set options (text input fields or custom data passed through the widget is not included in this report).

Choose the ticket field you want to see insights for, and it will show them for each value.




The ticket counts for the ticket field insights will be for the current field assigned to that ticket. If a ticket had the field "Misdirected" and was changed to "Ticketing System" later, it would show as as a "Ticket" for "Ticketing System."

Custom Filters

This is all well and good, but maybe you want to see an agent's insights when they answer tickets from a specific queue. You can set a custom filter further segmenting the insights.




Export Your Data

If you need to export your data, you can. In the top right corner, you'll see the option to Export to CSV.




That gives you an overview of how Ticket Insights works. Still have some questions? Shoot us an email at questions@uservoice.com. We'll be happy to get those answered!

Other Articles You Might Find Helpful: