Answering tickets via email
Sometimes (or all of the time) you want to be able to answer tickets from your email inbox. And you can!
Turn on your notifications
You can reply directly to ticket notifications. To update your notifications settings, click on your avatar in the Admin Header. Choose "Notifications" from the drop down menu [screenshot].
Then select which ticket notifications you want to subscribe to.
You can only respond to a ticket notification from an admin email address. If you respond from a non-admin address the system will see it as an end user ticket. This can also happen if your admin email address is an alias.

How to respond to a ticket notification

When you get a ticket notification, hit "Reply" and type out your answer. Then send. It's that easy!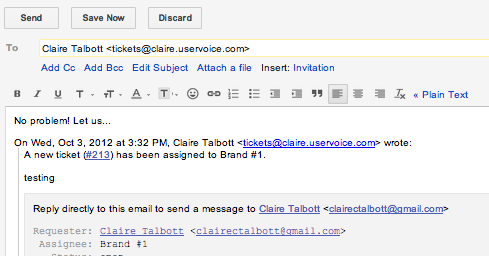 How it works
When you respond to a notification, your response will first be sent to your UserVoice account. Your message will be recorded as part of the ticket thread, your answer sent onto the customer, and the ticket closed.
Can I keep the ticket open when answering via email?

No, there's no way to specify that the ticket remain open when responding via email. We do have an idea about adding this feature, though.

Other Articles You Might Enjoy: